10.5 Clay Minerals
Steve Earle
In Earth science the word "clay" has two meanings. Clay is broadly defined as any unconsolidated material with a grain diameter less than 0.004 mm.  That is about 1/100th as big as the period at the end of this sentence, so is not big enough to see with the naked eye. This could include finely ground up quartz, feldspar, calcite, hematite or any other mineral. "Clay" also refers to the clay minerals, which are sheet silicates or phyllosilicates (from the Greek word phyllo meaning leaf). Clay minerals typically only exist as very tiny crystals, so most true clays also conform to the fine-grained meaning of the word "clay".
A clay mineral is a finely crystalline sheet silicate with hydroxyl ions, and in some cases with water as part of the structure. By sheet silicate we mean that the silica tetrahedra are arranged in flat sheets, with strong covalent bonding within the sheets, and that these sheets are arranged in stacks, where the bonding between the sheets is relatively weak. A hydroxyl ion is an oxygen-hydrogen pair (OH–), and these form a part of all clay minerals. Some clay minerals also have H2O as part of the structure, or in some cases water is simply attached onto the structure.
Most of the clay present in rocks at surface has formed as a result of weathering of other silicate minerals, primarily feldspars, micas, pyroxene and amphibole. The reactions involved are hydrolysis reactions, something like the following reaction of potassium feldspar plus water and carbon dioxide to kaolin.[1]
2KAlSi3O8 + 2CO2 + 11H2O —> Al2Si2O5(OH)4 + 2K+ + 4H4SiO4 + 2HCO3–
K-feldspar + carbon dioxide + water ->  kaolin + potassium, silica and bicarbonate ions in solution
In simple terms, K-feldspar reacts with water and carbon dioxide to form kaolin plus bicarbonate ions. The potassium and some of the silicon that were originally present in the feldspar, are removed in solution.  The CO2 comes from the atmosphere, and over geological time, this is type of reaction plays an important role in controlling the atmosphere's composition and hence the greenhouse effect.
Clay minerals can also be formed when hot waters (known as hydrothermal solutions) circulate through a body of rock. As is the case for weathering, the hot solutions lead to alteration of pre-existing minerals. Hydrothermal solutions are often also associated with the formation of metal deposits (such as porphyry copper deposits) and the surrounding clay-mineral halos can be an important guide in the exploration for such deposits.
Unlike the primary silicate minerals that they form from, clay minerals are soft and easily eroded into tiny fragments and then transported.  They accumulate mostly as sediments in low-energy deposition environments (e.g., deep ocean or in lakes), sediments that are eventually turned into shale.
Clay Mineral Structures
An important feature of clay minerals results from the characteristics of their bonding. The tetrahedra and octahedra are strongly bonded to each other within the sheets, but the sheets are only weakly bonded one to another. The sheets that make up a clay mineral grain have a tendency to slide with respect to each other, and the result is that clay mineral masses tend to be soft and plastic, and not very strong.
The simplest clay mineral is kaolin. Each "sheet" within the kaolin structure is comprised of a silica tetrahedral layer and an aluminum octahedral layer (Figure 10.5.2). The combination of one tetrahedral layer and one octahedral layer makes this a 1:1 layer silicate.  For simplicity, it may be useful to describe this as a T-O structure (1 tetrahedral layer and 1 octahedral layer). This structure is also found in the mineral serpentine, in which magnesium substitutes for aluminum in the octahedral sites.
Formation of Clay Minerals
As already noted, clay minerals typically form from the alteration (hydrolysis) of pre-existing silicate minerals. The type of clay mineral that will form in any situation depends partly on what silicate mineral is being altered, but also on a range of other variables such as the temperature and pressure, and the chemistry of the solutions that are passing through or over the rock at the time.
Clay minerals form during weathering at surface, during hydrothermal alteration of rock within the crust, and during the diagenesis (mineral alterations that take place when sediments get buried beneath other sediments) and their transformation into sedimentary rock.
While the temperatures and pressures of hydrothermal alteration and diagenesis can vary dramatically, weathering conditions are broadly similar the world over, the main differences being the amount water available from precipitation and the average temperatures. Temperature differences of a few tens of degrees mainly control the rate of weathering, not the type, and so the major factor that determines which clay minerals will form during weathering is the type of primary silicate minerals present in the rock.
A summary of the clay products of weathering of primary silicate minerals is provided in Table 10.4. Quartz in not in this list because it isn't subject to chemical weathering.
Table 10.5.2 The Typical Clay-Mineral Weathering Products of the Important Primary Silicates

| | |
| --- | --- |
| Primary Silicates | Typical Clay Minerals That Will Form Under Weathering Conditions |
| Olivine | smectite |
| Amphibole & pyroxene | smectite, talc, vermiculite & chlorite |
| Plagioclase feldspar | kaolin (especially halloysite or kaolinite) |
| Potassium feldspar | kaolin (and illite less commonly) |
| Biotite | vermiculite, kaolin |
| Muscovite | Tends to be generally resistant to weathering but can convert to illite |
The clay mineral products listed Table 10.4 are specifically those that form under weathering conditions, which generally means temperatures under 40° C, atmospheric pressure, and water that has low levels of dissolved ions and close to neutral pH.
The higher temperatures associated with burial and diagenesis of sediments, or with hydrothermal alteration or even low grade metamorphism, result in the formation of some clays that are not typically produced during weathering.
Some of the clay-mineral transformations that can take place within sediments as they undergo progressively greater burial beneath other sediments are illustrated on Figure 10.5.5.  The assumption here is that the sediments already include some clay minerals, especially the low-temperature clays smectite and kaolin produced during weathering in the sediment source area. Starting at around 100° C, the smectite might first be altered to a mineral with mixed or alternating layers of smectite and illite. The mixed-layer clays may be altered to chlorite and illite at around 150° C, with the illite being altered to muscovite at over 200° C.  Any kaolin originally present in the sediment as kaolinite or halloysite might first get transformed to the higher temperature polymorphs (dickite or nacrite) and then to illite, and eventually to either chlorite or muscovite.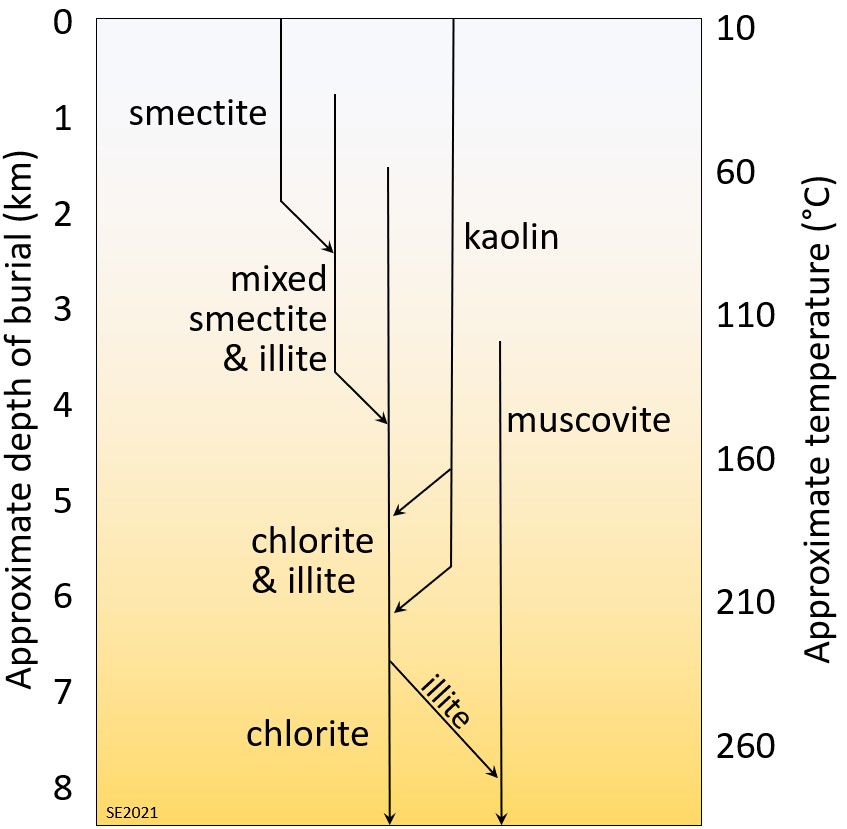 Hydrothermal alteration takes place where hot water circulates at depths of hundreds to thousands of metres within the crust. This is commonly associated with convection systems produced by magmatic heat, and as described in Chapter 8, it is a process that is commonly associated with ore-formation. Clay alteration is well known around porphyry, epithermal, volcanogenic massive sulphide and some uranium deposits. In these environments water chemistry can be extremely variable, and temperatures can range up to hundreds of degrees, so a very wide range of clay minerals and other alteration minerals can form. The details are beyond the scope of this book but can be found in works related to mineral deposits.
Hydrothermal alteration to clay minerals also takes place in volcanic areas because the heat source can drive convection and will also speed up the reaction rates. This is evident around Mount Meager area in BC's Coast Range (Figure 10.5.6).  Some of the rock colours are a product of clay alteration. The scar from the 2010 rock slide and rock avalanche—which happened in part because the volcanic rock had been weakened by hydrothermal clay-alteration—is visible in the photo.
---